Twirling flags, spinning rifles
Winterguard team performs their "hearts out"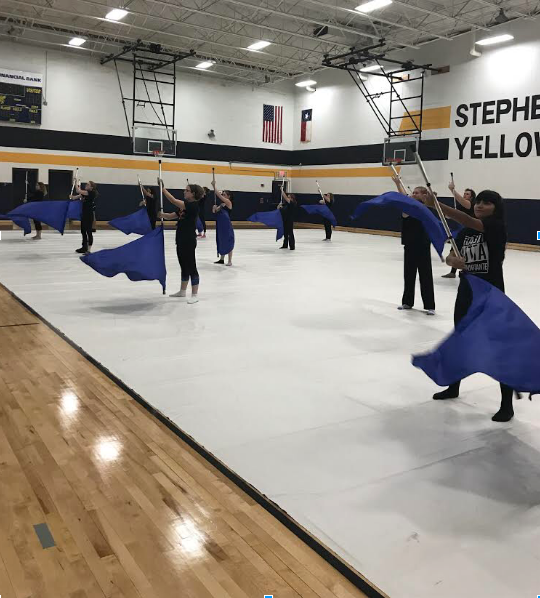 Hang on for a minute...we're trying to find some more stories you might like.
As the mat pulls across the gym floor and the equipment is set, a team of students prepare to perform their memorable show for an eager audience and crucial judges. Once the music starts, the performers get into their positions and look at each other with positive thoughts of a great run through of their personal show. Flags twirling, amazing choreography, and launching prop rifles into the air, Winterguard is ready to show their audience who they are and what they are made of.
Colorguard consists of 15 members this year with a captain, flag lieutenant, and weapons lieutenant. The group will compete in the Winterguard contest during the spring and go against schools such as Alvarado High School and Everman High School.
"Winterguard is an activity that combines dance, theatre, and colorguard into a competitive performance art," Colorguard director, Stephanie Childs, said.
Colorguard performs to a show that marching band chooses in the Fall. Winterguard has a performance that is inside without live band music.
"The winter program is usually developed in a similar manner as the marching show," Childs said. "However, it will move more often and the creation of a storyline is very important as the individual performer has to be able to tell the story through dance and emotion."
Before the Winterguard show can begin, the group spends a lot of time outside of school practicing for their next big debut.
"Rehearsals are broken down into sections such as conditioning, technique, and the show," Childs said, "As the season progresses, the show becomes the main focus."
Within the group themselves, their favorite thing about Winterguard is the impact that it carries.
"I love the feeling of performing and letting all of the emotion flow out of me." captain, Maddie McLemore, said.
The captain, flag lieutenant, and weapons lieutenant all have very meaningful roles.
"I wanted to become a leader because I wanted to share what I have learned over the last three years and learn how to lead a group through experience," McLemore said.