Tennis season swings into playoffs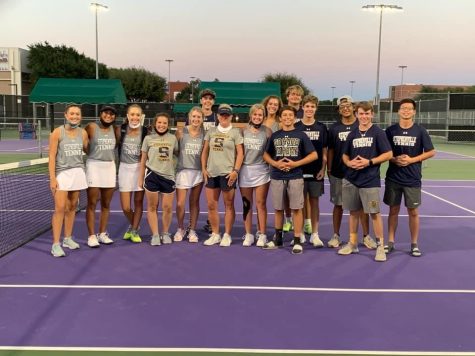 The tennis team made a big swing into the playoffs. With nonstop practice, the 2020 season met the coach's hopes and dreams of advancing as far as possible even though they played teams who have been in the sport since junior high.
  "Our goal going into the season was to make the playoffs for the first time in school history, and we did just that," Karen Greenhaw said.
   On Oct. 6,2020 in Ennis Texas, bi-district matchups were held at 6 a.m. Starting strong, the tennis teams played 10 rounds but sadly lost 0-10 Argyle.
   "In district we placed 4th, sending us to the playoffs. They lost to number seven state ranked, Argyle, in district matchups," Greenhaw said.
   There is a big difference between practice in and out of season. Out of season we condition and train our bodies for the upcoming season, in season we train our plays and strategies.
  "It really depends on where we are in our season; for example the way we train in the off season is very different from the way we train during the middle of the season. During the season we really focus on strategy, where in the off season we really focus on the fundamentals and conditioning," Greenhaw said.
  Tennis is more than just winning, it's about the personal rewards as well.
   "It is most rewarding for me personally, because I gave dedication and passion to the sport I love very much. I also love building relationships with my players and seeing them grow as tennis players and students,"  Greenhaw said.
   Even though the season is over, the team will not wait to start for the spring season. Practice is in for a full swing.
   The tennis team has a plan to make history again but this time better by making it to state.