Coronavirus affects cross country team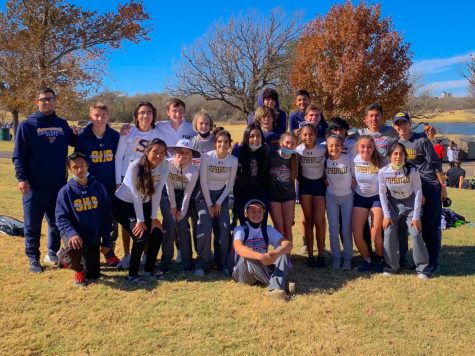 Coronavirus has affected the cross country team this year emotionally, and physically. As the coronavirus spreads more and more throughout the school, the sports teams suffer, especially the cross country team as they have to change the way they practice, lose team members, and restrict the way they participate at meets.
   "Typically there would be 100 people at the starting line and now there are only 30." Coach Phelps said.
            The coronavirus affected three of the cross country runners when they had to quarantine instead of being able to attend meets and regionals.
   "One of my runners ended up not being able to run at district and had to quarantine at regionals," Coach Phelps said.
   Every runner is an important part of the team. Once a runner gets coronavirus, they can't do their part which affects the score and the way they perform at the meet.
   "We wouldn't have that runner there to help give us points and we wouldn't have that support," junior Mitchell Pack said.
   Runners have to do the best they can to stay as healthy as they can and protect themselves from coronavirus, especially if they want to run for regionals. But since it's not really a contact sport, they aren't that worried about getting it.
   "We're not worried about getting coronavirus because we have good staff who provide us safety," senior, Daniel Osornio said.
   Of course, because of the many changes coronavirus has caused, it has affected the way the runners performed this year.
   "They were on their own from March-May, and we got to start running at the beginning of June. I think some of them took three months off and some of them one or two days a week. Overall, we could've ran better in those three months that we ended up in quarantine," Coach Phelps, said.
   Even though Phelps and the team experienced some drawbacks, the team advanced to Regional.
   "I was pleased with how we went down to Lubbock and competed. They changed the course from the past years but I thought our times were competitive and we all went down there and ran our hardest," Coach Phelps said.