Serious Competitor
Junior makes second-team-all-state honorable mention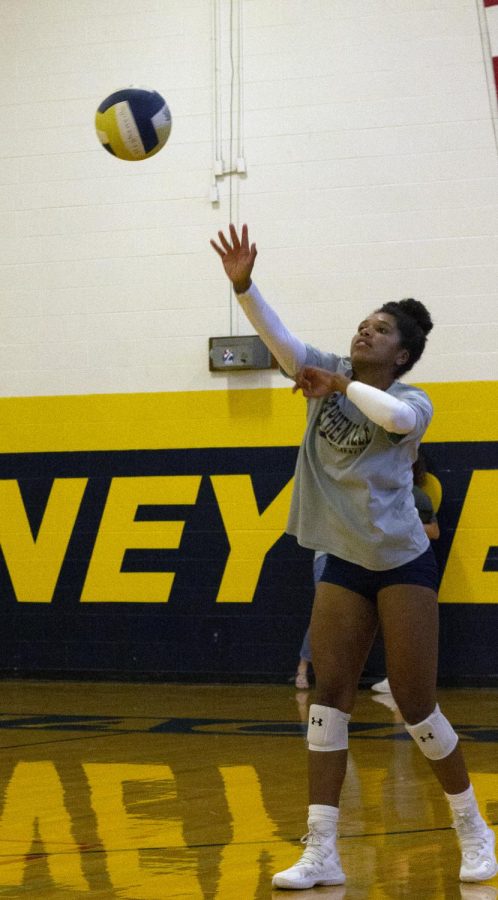 Blood. Sweat. Tears. Having determination to proceed in an activity always comes with pros and cons. It starts with support from friends and family, but it takes commitment from yourself to keep going. Hard work. Long hours. 
  " I'm always working hard in the weight room, the court and the little things, she said." "I always do my best when I'm on the court and I give it 110% no matter what for my team and my coaches."
   Junior Alee McClendon was chosen for Class 4A Second-Team-All-State Honorable Mention in volleyball for 2019 by the Texas Sports Writers Association. She is a middle blocker and was a part of the Honeybee Volleyball team who went three rounds deep in the playoffs but lost to Argyle. They'll continue to work in the off-season and will chase success for the 2020 season. 
   "I didn't expect it and was honestly surprised, Alee said. "It made me realize that all my hard work I give finally paid off.  I work really hard at everything I compete in simply because I want to be the best in everything I do.
   For Alee, great relationships and having inspiring role models encouraged her to play the sport she loved to help her receive accomplishments that she would be proud of.
      "In the beginning, I didn't even want to play volleyball and didn't start playing until the 7th grade," Alee McClendon said. "I always thought it boring, but most of my friends started playing volleyball, so I tried it. With the support of friends, family, and coaches, I decided to continue in high school."    
   Coach Douglas was a big reason why Alee learned to love volleyball. 
   "She's one of my biggest adult role models and taught me how to love the game and be a student of the game."
   One of Alee's fellow teammates is her biggest inspiration. 
   "Jayci Morton is my role model because she is an all around athlete that I look up to. She encourages me to do my best in every sport. She was lettered in every sport, and I always thought if Jayci could do it, I could do it as well."
    Alee has played five years and is satisfied with what she's accomplished through the sport and the relationships she's made.
   "I'll finish my high school career and will work hard in the off-season to come back stronger next season. I'm looking forward to improving with my teammates to have a successful season for my last year."