New gym creates excitement for students, coaches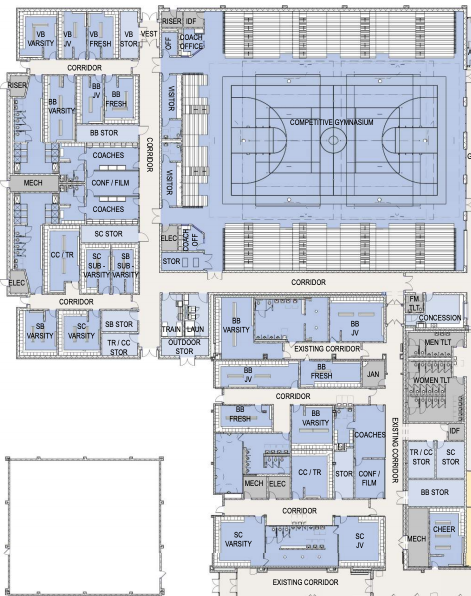 The excitement about the new gym from the coaches is contagious. After years of state championships and district wins, the school district has decided to build a new gym which includes, more storage, a gym divider, increased seating capacity, and new gym floors.
   "It is an exciting process to be able to provide input that will eventually impact so many students," Principal Stephanie Traweek said.
   Many coaches and students are looking forward to the new features of the gym.
   "Getting more space for storage and new locker rooms are very nice for our kids," Girls Basketball Coach Jason Hodges said.
   Having the new gym is a great way to help motivate athletes to work harder. 
   "When you get something like a new gym it makes more exciting to play," Girls Volleyball Coach Shay Douglas said. "It creates a better mental state for the players." 
   Having a new gym will benefit the student body when we have pep rallies. It'll create a bigger space for each class, so the students aren't so crowded in the bleachers. The bigger gym floor will give the cheerleaders more of a space to tumble and cheer during games and pep rallies. 
   "It gives the cheerleaders more flexibility and room to cheer and not only pep rallies but volleyball, and basketball games as well." Cheer Coach Jennifer Jones said. 
   Having these shiny new gym floors will benefit the basketball team as they play on the court. It is much bigger and gives more space between the bleachers and the court. 
   "During practice it will make it easier for everyone to be together," Sophomore Matthew Chambers said. "And it will let the teams practice together without getting in each other's way." 
   Having a gym divider will benefit all sports who use the gym on a daily basis. It gives the school the ability to host more games in sports tournaments. 
  "More league games can be played with the divider in the gym," Head Boys Basketball Coach Bill Brooks said. "It will be easier to play games during camps and tournaments."
   Losing the old gym might be sad for alumni who have played there, but coaches and students are excited to break in the new gym when it is completed. 
   "Part of me is going to be sad that we're losing the new gym," Coach Hodges said. "I played in it, so it's one of those nostalgic feelings but a good thing for our kids."