A Bright Honeybee Future
Varsity honeybee's prepare for an exciting season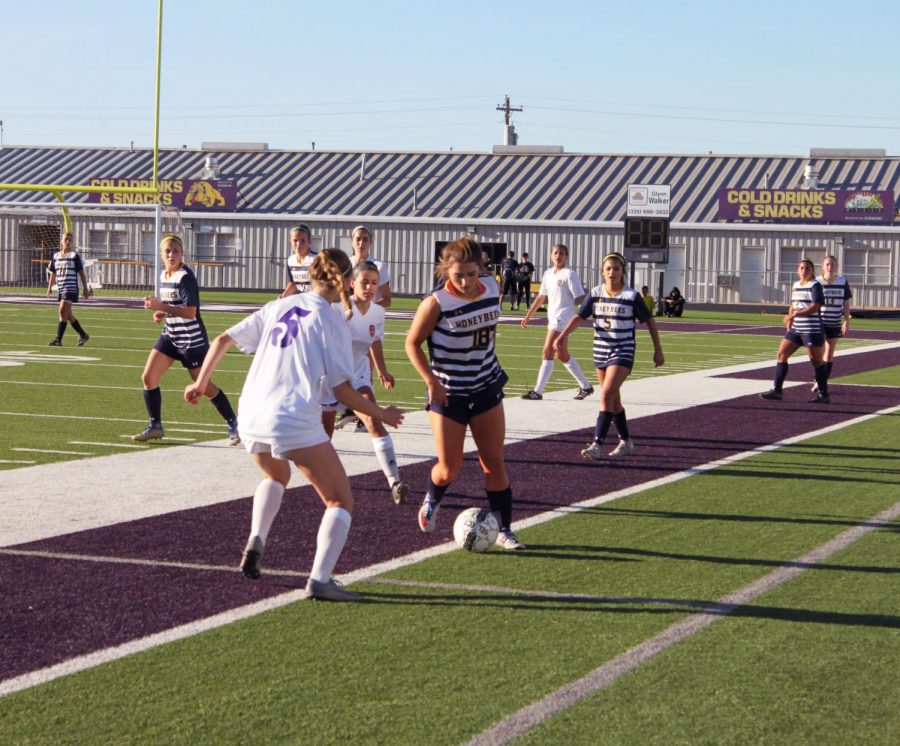 Gracie Bales, Sports Reporter
December 19, 2018
The State Tournament is something you dream about your whole life.  It is something you have to worked hard for. As you lace up your cleats and prepare your shin guards, you walk out of the tunnel and look up and see all of the fans that believe in your team. When your feet touch the turf, you know that someone is getting sent home, and from the look in our eyes, the Honeybee's knew it wasn't going to be them.
  Honeybee Soccer has proven to be a dominant program. For the past two years, they have broken many records. In 2017, many records were broken by winning the regional tournament and then winning a state championship. In 2018,  the Bees broke records in district play by becoming the outright district champions. Over the years, records have been dominated and bonds have been built, and for this team, that success is only the beginning.
  "I would say that what we have done in the past has proven to work. We really have concentrated on being able to last entire games to be sure we are physically fit and you know going to the state tournament and winning a state championship involves a little bit of luck. If you look at anybody that wins a state championship, there is just a little bit of luck that goes into it. I think that we are good enough this year that we will be able to be successful without having much luck on our side", said head coach Casey Weil
  The team has really proven how talented they are. This team has the size, skill and speed. Of course, that comes with a lot of hard work. The Honeybees have had a lengthy and diligent offseason.
  "I kinda think through what we do in the offseason starts in the weightroom. I think that gives us a step up on other teams. If you look at us compared to other teams, we are stronger and we are more physical. I think that's what the weight room brings. Fitnesswise going into this, we've been able to work for about five months on our fitness. Along with all the girls that play club, being physically fit in a soccer game is crucial and key, and through the offseason, I think we are stronger and faster and more physically fit being able to last an entire game," said Coach Weil.
  All the hard work the Bees put in is only half the reason they are successful. This group of girls have known each other most of their lives and a lot of them have played on the same team for quite some time.
  "It makes us more of a family when we play together on a field, and that's the reason why I think we are so successful. My favorite memory is when we won the regional tournament in 2017. We played over 100 minutes of play and then won in a shootout," said Alyssa Northcutt.
  Senior goalkeeper Alyssa Northcutt, is a four year varsity letterman and a major key player in the success of the Honeybees. In 2017, she stepped up in the Regional Tournament final and made huge saves in the shootout. When we talked about her favorite memory, she couldn't stop smiling.
  "The bond that we have as a team. It's all special because we encourage each other and support each other no matter what. Wearing the Honeybee symbol is a privilege. We wear it for our town which makes winning so much more special," said junior midfielder Haleigh Beam.
  As they approach the new season, the Bees are focused and ready to go. They are ready to face a challenging schedule and for another run to the state playoffs. The Honeybees are stronger and faster, and they are prepared for the test that starts in January. They know that no matter what happens, it will come down to family.
  "The last two years have showed me that you win some, lose some. This has taught us many lessons to stay humble through it all and no matter what the outcome is, we are still a family," said junior defender Beatris Chavarria.