Honeybees chasing success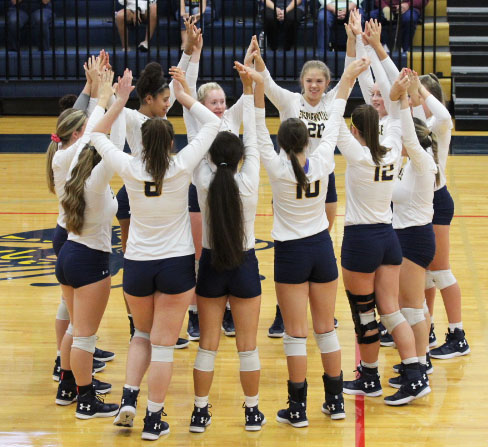 Sydney Russell, Sports writer
December 18, 2018
Match point and a gym filled with screaming parents and fans. Bump, set, spike, another kill from the Honeybees. The team gathers in the center cheering, and praising one another for a job well done. Another win for the Bees.
  The 2018 volleyball season was successful for new coach, Shay Douglas. The team advanced all the way to the Regional match and are preparing for another successful season.
  "I had a great group of girls this season," Douglas said. "They really bought into what I brought to the program."
  Initially, there were a few players who were hurt but the team was able to overcome these obstacles.
   "We had some key injuries at the beginning of the season, but were fortunate enough to get healthy for championship season," Douglas said.
  Senior Jayci Morton went above and beyond on and off the court.
  "She would take the time to break down not only her film but every opponents film," Douglas said. "She would come in early and stay late. The time that she put in outside of our regulated practices showed with her performance."
  The Honeybees participate in practices after the season is over getting ready for the next year. In off season, they set goals for the upcoming season.
  "One of our goals in off season is to become a more consistent first contact team," Douglas said. "Serve tougher and smarter. Passing consistently in all aspects of the game."
  Douglas believes that Junior Gabie Lucero will play a big roll in the success of the team for next year.
  "Lucero is going to be key for us again next year in the Libero position," Douglas said. "She is a leader and her teammates have a lot of confidence in her."
  The team's three middle blockers also will play a big part on the offensive side of this game.
  "Alee McClendon, Jaydi Griffin, and Landri Withers are going to be a big part of our success across the net," Douglas said.
  Overall, Douglas believes the team as well as herself can always improve and she is ready to take on another season.
  "There is always room for growth and as a coach, you continue to learn about the sport you coach as well how to handle game situations," Douglas said.
The 2018 Honeybees gather in the center of the court following tradition in order to prepare themselves for a home game during their fall season.