And the beef goes on
Jacket/Argyle rivalry continues tonight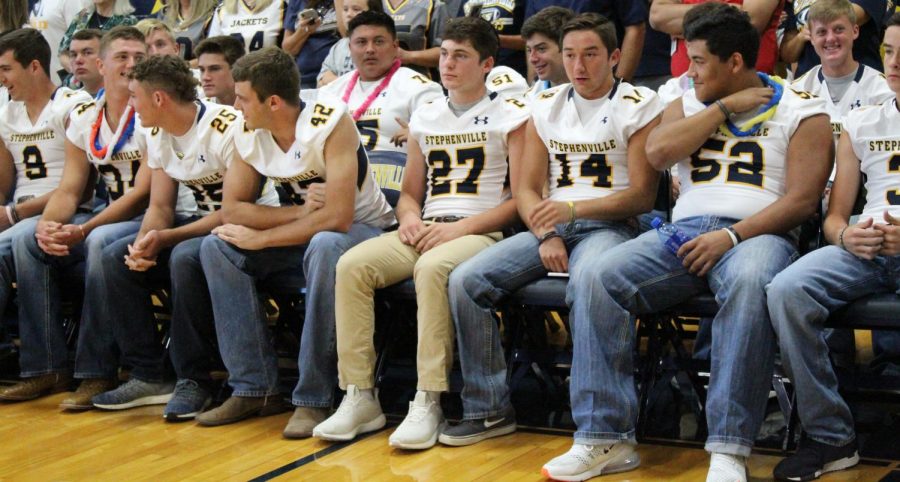 Sydney Rusell, Sports Reporter
August 31, 2018
   Last year's game against Argyle was an emotional roller coaster. In the beginning, the Jackets were focused and prepared to fight. By halftime, the game was tied 7-7 but the Jackets pushed and scored 10 points in the third quarter. At the end, the Eagles had the opportunity to score a field goal and go into overtime but it was tipped. The Jackets shocked Argyle.
   Last year, the Jackets met Argyle in the third round of playoffs. Jackets were considered to be the underdogs and many were scared that game would be the end to the Jackets "Revenge Tour," but the Jackets determination paid off. This year, the season opener game is against Argyle on their field.
  Due to the pressure to defeat this high ranked team, the Jackets have been practicing.
  "We work hard and watch constant film," Blu Caylor said.
Although there will be some challenges this year, the jackets hope to come out on top.
  "Our biggest challenge will be to stay focused in an intense and hostile environment Josh Cox said.
  Chase Carrillo sums up tonight's challenges.
  "By far the biggest difficulty is going to be who will be more physical, and also special teams and who is going to make more turnovers."
  There has been other rivalries with teams like the Brownwood Lions and the Wylie Bulldogs but to the Jackets, this isn't the same.
  "The Brownwood rivalry will always be deeper and have more history," Cox said. "Argyle is simply a team that wants revenge and we intend to repeat last years result."
  Although on the field they are against each other, the Jackets have a high regard for the Eagles.
  "I have a lot of respect for Argyle; This is the #1 and #3 team going head to head," Carrillo said.
  Nowak mentions that there hasn't been much slander on social media but their will be at the game.
  "I guarantee there will be trash talk on the field," Krece Nowak said.
  Before the game, Carrillo plans to stay calm and do his best to work well with his team.
  "The best way to prepare for a the game is to just be relaxed, stay hydrated, and being with the team."
  Jackets play at 7:00 p.m.
   "Argyle is just a team that wants revenge, they're good but so are we," Cox said.