Stephenville Track Achieving Excellence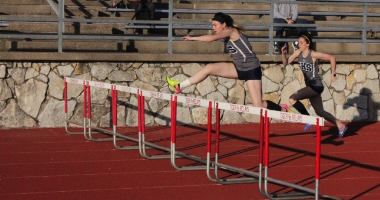 It's a bright and sunny day out on the field. Athletes are stretching and warming up their legs for their event. In the back of all their minds is the same thought: this is it.
  This spring season, three dedicated athletes qualified for and competed in the State Track meet held at Darrell K Royal-Texas Memorial Stadium, in Austin, in order to exemplify excellence as they compete.
  Senior Blake Aragon, after winning state the previous year, qualified for the second time and placed sixth in high jump.
  "It's an amazing feeling of honor to make it twice because it's hard to just get there, let alone go two years in a row," Aragon said.
  Another qualifier is junior Bailey McBee, who went through a new experience as she achieved great results in the 100m hurdles.
  "This is the first time for me to compete at the state track meet, and I placed sixth with my second best career time of 14.90," McBee said.
  A student who runs track obtains much more than just medals. For Bailey, she became very happy when she learned her hard work had paid off and she qualified for state.
  "One of my favorite memories was this year when I got in the blocks at regionals and told myself this is it," McBee said. "I have to run the best race I can to qualify for state. I dug deep and ran my fastest race of the season. As I finished the race and turned around to looked up at the scoreboard that had all the times scrolling down. I was so excited that I not only saw I got second, but I ran my personal best time of 14.78. The level of excitement I felt was unbelievable!"
   The third qualifier is Shayden Toof, who is only a sophomore. With this being her first time in the state meet, she did very well.
  "This was my fourth year to compete, second in high school," Toof said. "I placed eighth out of nine."
  When competing, Coach Jeremiah Butchee had the biggest impact on Toof's success.
  "Right before I got my personal record on my last jump at the regional meet, Coach Butchee just told me, "If you want it, go take it," Toof said. "He was talking about the second place spot to go to state."
  In track, there are many ups and downs. For McBee, when she approaches a tough situation, it helps her push to become a better athlete.
  "My freshman year, I hit the eighth hurdle and fell in the 100m hurdle prelims and wasn't able to make it back to the finals the next day," McBee said. "I said then, I will do whatever it takes and work harder to improve.  By my sophomore year, I had worked harder and ended up third and missed going to state by six inches."
  If you are running track for the first time, set a goal for yourself and work as hard as you can to achieve it.
  "Don't think that just because you aren't great now, doesn't mean you won't ever be great," Toof said. "A lot can happen over a year and as long as you want it bad enough, you can achieve what you didn't think was possible. I never believed I would make it to state as a sophomore, but I worked constantly and ended up improving by around four feet from last year."
  When competing, you should be thankful for the time you have to do what you love.
  "Cherish every moment because these four years go by way faster than you think they do," Aragon said.