Volleyball athletes recognized for academics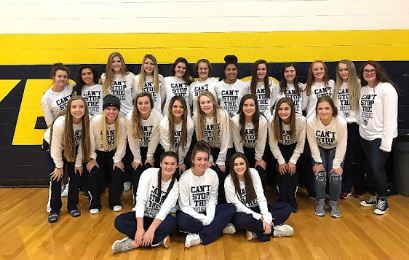 Hang on for a minute...we're trying to find some more stories you might like.
 After a great volleyball season, manager Jordan Bailey and players Ashton Garner, Hailey Martin, Kristen Pettit, and Maren Isham, received the THSCA  Academic All-State Award for outstanding performance for academics and their performance.
  The Texas High School Coaches Association (THSCA) understands that students may have a harder time managing their academics as well as participating in athletics. The THSCA Academic All-State Teams recognizes volleyball players who go above and beyond in GPA, class rank, and ACT or SAT scores.
  "We applaud them for their commitment and dedication to perform with the highest of excellence academically and on the field or court," THSCA said.
  These girls want to be the best, so they have to have a strong mindset on the court.
   "My mindset on the court is to better the ball," Garner said. "Meaning if the set or pass is bad, to get it under control and score."
  Their passion for volleyball had to start somewhere and for Isham, it was the people around her who convinced her.
  "I didn't want to play at first, but with junior high approaching and never playing before, a family friend and Tarleton volleyball coach, Mary Schinder, convinced me to give it a try," Isham said.
  In addition their hard work, they also made a lot of great memories.
  "Kristen and I danced at the back of the bus for the longest time on our way to the hotel," Garner said.
  It takes a lot of effort for these girls to be the best athletes they can be while still staying on top of their grades.  
  "My teammates and I motivate each other," Garner said.
  These five girls have worked hard not only on their academics but also on their team bonding, character building, and passion for volleyball.
  "Being recognized for being great in such a competitive sport made me feel like my hard work is being noticed," Garner said.